Just a week ago, WRAL news ran a story on this firm's winning appeal in STATE V. YATES:
This week, the Law Office of Mark L. Hayes is back in the news for its win in HAMLET H.M.A., LLC D/B/A SANDHILLS REGIONAL MEDICAL CENTER v HERNANDEZ. Lawyer's Weekly ran an "above-the-fold" front page story on the case: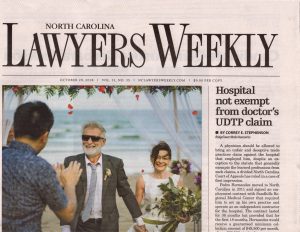 The Lawyer's Weekly article can be read in full HERE
Mr. Hayes offered the following quote for the article: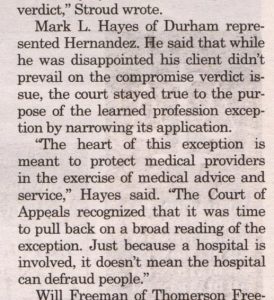 HAMLET involved a North Carolina Hospital which entered into an agreement with an out-of-state physician to set up a surgery practice in the area. The parties eventually sued one another for breach of contract, with the hospital winning a six-digit award at trial. This firm represented the physician on appeal of the verdict against him, and also in his cross-appeal to revive his counterclaims against the hospital.